Volcanoes, oceans, far-flung places, history, wars, dictionaries and madmen – meet Simon Winchester, OBE, who has written extravagantly and deeply about all of these topics in a career of risk, adventure, glamorous characters and hard digging.
From 12.00 noon UK Time
At Goldster Book Club
His account of how a former school headmaster and a clinically insane murderer collaborated on creating the Oxford English dictionary in The Professor and the Madman became an international bestseller and Hollywood box-office film.
In 1982, while reporting for The Sunday Times, Simon was actually on the Falkland Islands when Argentina invaded. He wrote about his experience in Prison Diary and later in Outposts: Journeys to the surviving relics of the British Empire. Simon has a special knack of turning complex issues into captivating human stories in books such as Atlantic, Pacific, The Men Who United the States, The Man Who Loved China and, his latest, Land: How the Hunger for Ownership Shaped the Modern World, which tells the history of humankind's relationship with our planet's 37 billion acres of habitable land.
In conversation with Humphrey, Simon will relate how he reported on Northern Ireland's Bloody Sunday killings and America's Watergate scandal, how he crafts his books, what gives him his ideas and why he had a life-time ban from the tiny British Atlantic outpost of Tristan da Cunha.
At 12.00 Friday 11th March, in this very international Goldster Inside Story, Humphrey will also ask Simon about the ups and downs of getting a book made into a Hollywood film.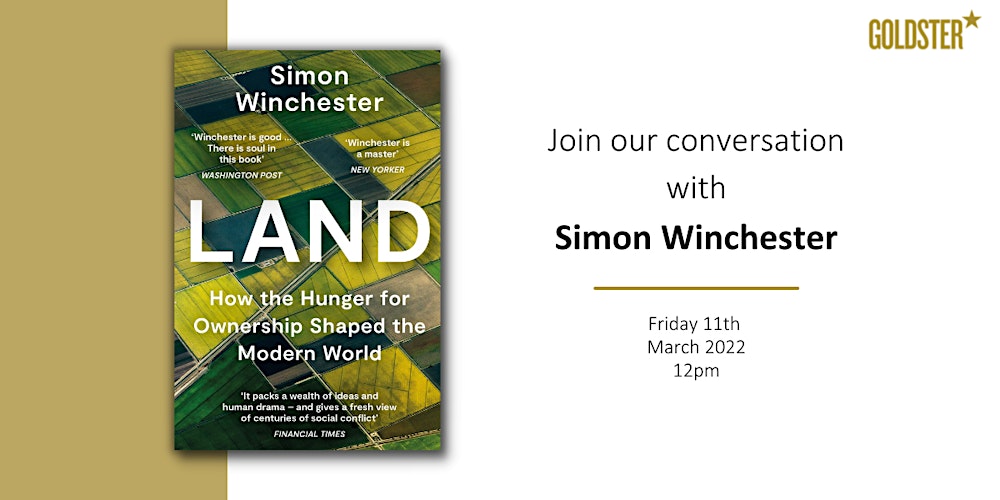 Inside Story (author talk) with Simon Winchester and Humphrey Hawksley
Goldster Inside Story (author talk) with Simon Winchester and Humphrey Hawksley on Friday 11th March at 12pm.