With our minds bleakly on war in Ukraine, a Goldster Author-to-Author special brings you Dr Harlan Ullman, a top strategic adviser who has been on the inside track of wars around the world since Vietnam.
From 19.00 UK Time
At Goldster Book Club
Harlan has worked with American Secretaries of State and Defense, members of Congress, NATO commanders and governments in Asia and Europe. He created the famous phrase 'Shock and Awe' that many of us have heard surrounding America's foreign wars.
His new book 'The Fifth Horseman and the New MAD' is out on Thursday and Harlan will be Humphrey's guest on Wednesday March 23rd at the special time of 7pm.
Among Harlan's many books are Shock and Awe: Achieving Rapid Dominance and Anatomy of Failure; Why America Loses Every War It Starts – an uncomfortable home-truth that Russian leaders might be wise to learn.
A career naval officer, Harlan has served at sea in command and ashore in senior assignments of responsibility. As a Swift boat skipper, he led over 150 combat patrols and operations in Vietnam and was a professor at the National War College where he directed the course of study in military strategy.
Harlan divides his time between the worlds of business and policy. He chairs The Killowen Group that acts as both a strategic investor in high technology companies and advises leaders of business and government. He is a senior adviser to the Atlantic Council and a regular syndicated columnist for United Press International and the Washington political magazine, The Hill.
In a recent Financial Times article, Harlan argued that America and Europe might need to carry out a 'shock and awe' event with Moscow in order to dislodge Vladimir Putin from office. Find out what that might be and put your questions and comments to Dr Harlan Ullman in conversation with Humphrey Hawksley on Goldster Author-to-Author at the special time of 7pm on Wednesday March 23rd.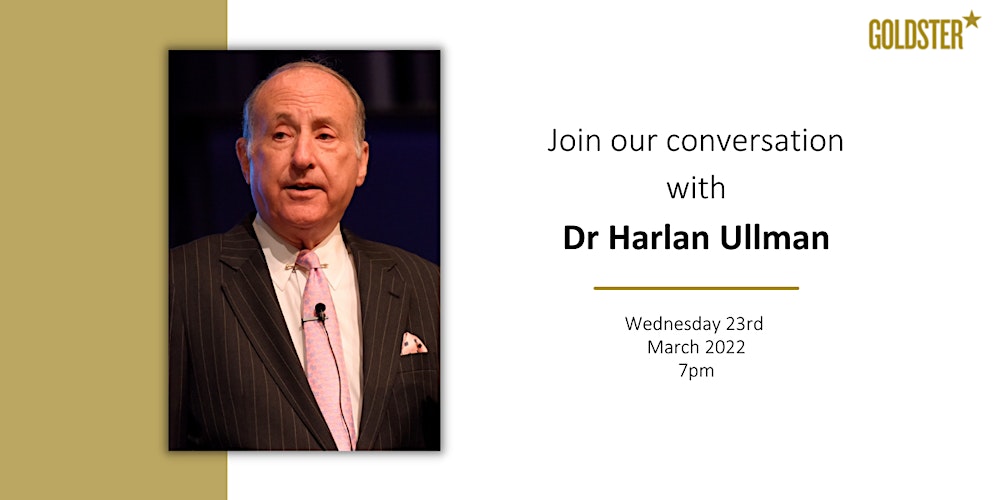 Author to Author (author talk) with Dr Harlan Ullman and Humphrey Hawksley
Goldster Author to Author (author talk) with Dr Harlan Ullman and Humphrey Hawksley on Wednesday 23rd March at 7pm