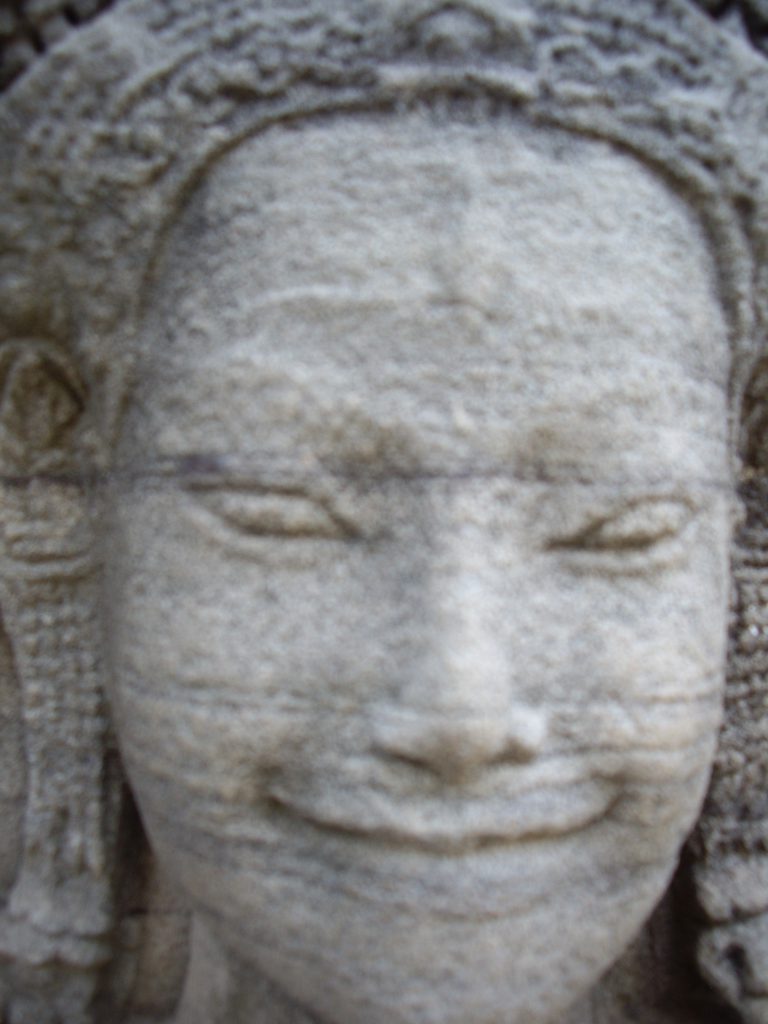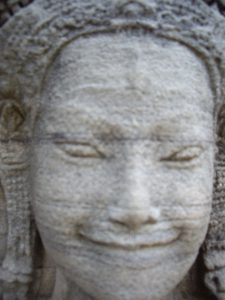 In half an afternoon, from the elegant poolside of the Oriental Hotel in Bangkok, we were in what must be one of the most perfect small cultural destinations in the world. Just over a decade ago, like Babylon in Iraq, Siem Riep in Cambodia was a war-torn place, wracked by fear and distrust. It was held by the Khmer Rouge, its people subjected to their Talibanesque style of murder and oppression. Yet towering over and underwriting its brutal history is Angkor Wat, the biggest religious monument in the world, built in the 12th Century by Suryavarman 11, ruler of the sprawling Khmer empire. Near-by are other temples, both Hindu and Buddhist, huge tranquil faces carved into sandstones, raging battle scenes along the walls, daily life of fishing, cockfighting and cooking, tree roots wrapped around pockmarked monuments that rise out of the jungle, reflected in moated waters with shadows thrown onto the deep green grass You pass Angkor Wat on the way into town from the airport. Whatever your destination, an air conditioned taxi costs US$5 and hotels are plentiful. For the first night we stayed at the Angkor Village Resort, a lush, quiet slightly out of town little hotel, where we got a taste of what Cambodia has achieved since the war ended – and of its innocence.
"How old is Angkor Wat?" I asked the receptionist.
She was tall, probably in her mid-thirties, dressed in a yellow patterned sarong and exquisitely oriental, "When I was born, it was already there," she said, pausing and thinking more. "And when my father was born, it was built, too. And my grandfather. So it must be very old."
For US$10 for the evening, we hired a tuk-tuk – a small, comfortable two seated carriage, pulled by Mr Souchea on a motorcycle. First stop was Viroth's restaurant on Wat Po Street, which served the freshest vegetable soup I have tasted for decades. Imagine the gritty salt water loveliness of an oyster, transferred to the soup.
The next night I tried it again at another restaurant and it was equally good. Dinner for two with wine at Viroth's came out at £15, then onto the Old Market Square which was jumping — bars, cafes, massage places, souvenir shops, and fascinating book stores. The plan was to have a coffee, but the atmosphere was so compelling that we shopped, walked and absorbed. I was in awe that these people could have recovered from war to create a friendly, chip-free, unthreatening place. Sure, it's for tourists. But it's underwritten by them.
The only way to see Angkor Wat and the other temples is with a guide and an air-conditioned car, costing US$30 each for the day. We managed only three in the day, Angkor Thom, The Bayon and Angkor Wat.
About half an hour into Angkor Wat I realised I was looking at a 12th Century version of a horror movie — Hannibal Lecter meets Kill Bill meets The Killing Fields. Our guide was showing us carving after carving of unspeakable human cruelty such as men nailed to boards and women having their bellies and wombs ripped out. There is no redemptive ending, no higher moral force, no white picket fences, no Great Cambodian Dream that everyone is striving for. It was a raw lesson on how to hold and exercise power enveloped in the mask of religion.
The great imagination of the creators of Angkor Wat was not on a higher goal but how to exact pain and suffering on humankind. Perhaps that is why the Khmer empire that once stretched through to Thailand, Burma and Vietnam fell apart and Cambodian people are now among the poorest in the world.
Having just come from Iraq, I found it fascinating, particularly when we came to section that remained peppered with bullet and shrapnel damage from fighting with the Khmer Rouge. Standing in Angkor Wat was like being in a cycle of history, where Cambodia was once again moving from a brutal era to one of prosperity. We didn't have a hotel booking for the second night, but dropped unannounced into the Sofitel, a sprawling resort set in tropical gardens, where for US$200 they gave us a suite overlooking a lake.
Near-by is the National Museum. Through collections of Khmer artifacts it tells the story of ancient Cambodia, the meeting axis between Hindu India and Buddhist China, and the room of 1,000 Buddha images hits you with the 'wow' factor as soon as you step inside.
A class of school children, in neat blue and white uniforms, was there, enthralled in their own country's history, lucky to have been born a few years later than my hotel receptionist whose education had been stolen by war. I wondered if, may-be ten years from now, there might be a museum, cafes and tourists thronging Hilla in Iraq, home of the Hanging Gardens of Babylon, one of the original wonders of the world, built in the Sixth Century by Nebuchnezzar.
Or may-be not. Who knows? What does a country need to recover from war? Some do. Some don't.