Taking stock before another Brexit chaos week. Of all the damaging political statements over the past few years, the most lethal surely must be Theresa May's: "If you believe you are a citizen of the world, you are a citizen of nowhere. You don't understand what citizenship means."
She immediately legitimized the trend towards nationalistic populism and such trends invariably gain impetus by creating false enemies.
The Conservative Party, led by figures with hugely stained track records, is intent on conflict against these 'citizens of nowhere,' whether they be immigrants or the European Union. It has no understandable policy except to stay in power.
Labour sings from a different sheet, albeit one that under Jeremy Corbyn is too extreme for British tastes. But other figures like Keir Starmer, Yvette Cooper, Tom Watson, Emily Thorberry etc. appear solid. Labour's aim is not to whip up loathing and resentment, but to create a fairer distribution of wealth.
Therefore, once Jeremy Corbyn has gone, I envisage a Labour government, run by pragmatic citizens of the world, redefining our relationship with Europe and leading much-needed reform on European cohesion.
The regret of the past years has been the inability of the Liberal Democrats to break Britain's two-party system and take the middle ground. But they are what they are and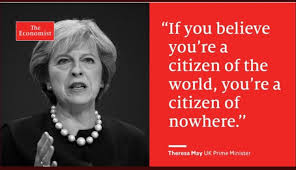 we are where we are.
One postscript. May's Citizen of Nowhere insult reversed seventy years of Western democratic thinking forged by Winston Churchill and the dying Franklin D. Roosevelt in 1945 as they tried to design a post-war international order.
FDR wrote: "We have learned that we cannot live alone, at peace; that our own well-being is dependent on the well-being of other nations far away….We have learned to be CITIZENS OF THE WORLD, members of the human community."